Mobach Ceramics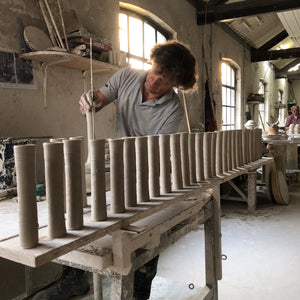 craftmanship
Mobach Ceramics is a family run producer of high quality interior & exterior ceramics located in Utrecht, The Netherlands. Kasper Mobach (on photo) designs their own Mobach collections. Ronald van der Hilst is the only external designer who has designed pieces for Mobach.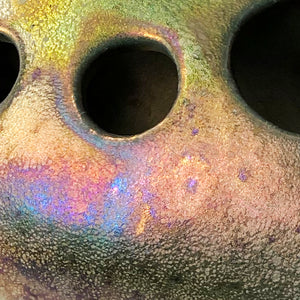 glazes
In addition to the diversity inherent in production by hand, the differences which emerge whilst applying the glazes and the atmospheric conditions during the firing process produce an ever-changing end result, which is impossible to reproduce exactly. Partly as a result of this, each product made is unique.
nb: the bronze glaze has a rich iridescent aspect (like the spectral colors in a soap bubble) and therefore every vase with this finish is unrepeatable.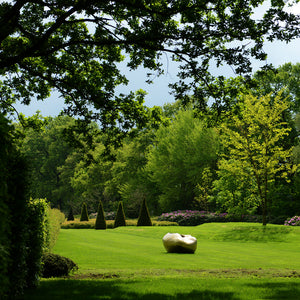 quality
The selected types of clay - which are mixed according to the company's own recipe - in combination with the superior Mobach glazes, make each object produced by Mobach stand out for its quality. The planters are frost-resistant to minus 25 degrees Celsius.
RVDH - collection for Mobach Ceramics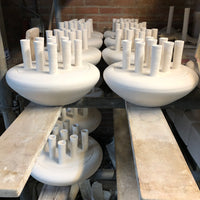 RVDH - collection: ceramics hand made for you
Since 2010, garden and landscape architect Ronald van der Hilst has been working with Mobach Keramiek in Utrecht.
Mobach - founded in 1895 - produces high-quality ceramics and is known for its superior glazes.
The vase designs are the result of Ronald's passion for tulips. Because tulips continue to grow and move in a vase, he believes they can be better experienced individually rather than in a bunch. And - very important - the vase as an object should be interesting if there are no flowers in it. The result is a collection of vases with spouts or holes in which other types of flowers or branches also stand out beautifully.
His inspiration for the large sculptural planters came from the rhizomes of certain plants. These pots can - of course - be used as planters, but are also interesting to use independently as an object.
These handmade vases and planters are made to order for you. So you should count on a delivery time of about 8 - 10 weeks. The craftsmanship and the special glazes make each one a unique piece.
shipping
Shipping costs are not included in the mentioned prices. This means that you are welcome to pick up your order (or have it picked up) as soon as it is available and at an agreed time. Or else we would like to discuss with you how the transport of your order can be arranged from Ronald van der Hilst studio, Antwerp.
Because these transport services are exclusively at the expense and risk of the buyer, we strongly advise to have the transport of these ceramics insured. Quotations for shipment and insurance can be given prior to purchase.
For questions about the transport or pick-up of the ordered items, please contact us at rvdh@ronaldvanderhilst.com.